The annual World ATM Congress (WAC) event plays host to product demonstrations and launches, contract closures and networking opportunities, together with a busy schedule of conferences and high-level meetings. This year, a total of 225 exhibiting companies and 7,500 delegates from 130 countries took part. Every year, the World ATM Congress brings together around a hundred air navigation service providers (ANSPs), product developers, leaders and experts in the aviation industry, government representatives, manufacturers and industry suppliers from around the world.
Organised by the Civil Air Navigation Services Organisation (CANSO) –of which Enaire (formerly Aena) is a founding member and which brings together air navigation service providers from around the world– in partnership with the Air Traffic Control Association (ATCA), an association that represents the air traffic control sector, the World Air Traffic Management Congress is an indispensable event that Ineco has been attending for almost 20 years.
The Galileo system: the brightest star
Galileo is the flagship project of European satellite navigation: a Global Navigation Satellite System (GNSS) that will boast a total of 30 satellites by 2020 –26 of which are already in orbit– managed by the European Global Navigation Satellite Systems Agency (GSA). Galileo is compatible and interoperable with systems such as the US's GPS and Russia's GLONASS, and will offer an unprecedented improvement in performance in terms of precision, resilience and robustness.
In 2016, the GSA entrusted its operation and maintenance to a consortium led by Spaceopal for the following 10 years. Spain is part of this consortium, through a group of public enterprises led by Ineco, in partnership with Isdefe and INTA (National Institute of Aerospace Technology). Ineco is in charge of the operation, top level maintenance and management of the hosting services of the European GNSS Service Centre (GSC) located at the INTA's facilities in Torrejón de Ardoz (Madrid).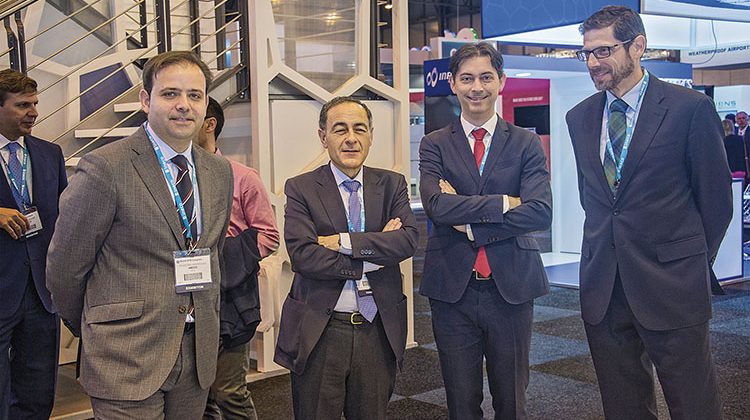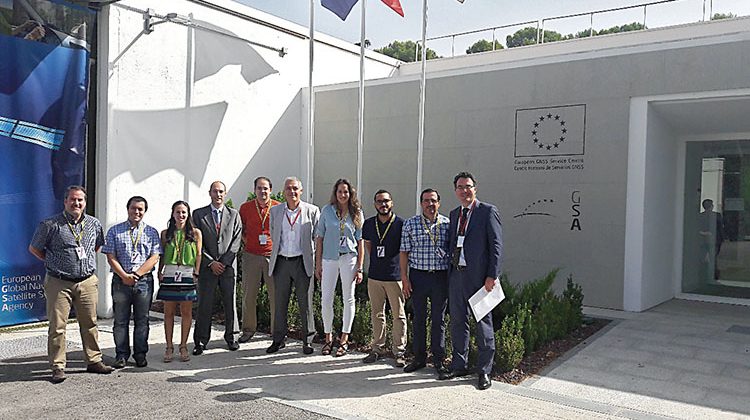 Orderly skies
With a marked international orientation, the air navigation sector moves in a world of extreme safety requirements and resulting advances in new equipment and technologies to ensure this safety.
Since 2007, Ineco has been part of the Single European Sky ATM Research (SESAR) project, which is currently in the deployment phase of unifying space and air traffic control in Europe. In this respect, WAC 2019 played host to SESAR guided walking tours which saw the involvement of Ineco's aviation experts Pilar Calzón, Víctor Gordo, Fernando Ruiz-Artaza, José Manuel Rísquez, Mercedes López and José Recio. There were also presentations on the integration of small drones and their application in airports and CTR environments by Víctor Gordo, and on the HEDIPRO flight procedure design tool by the engineers Javier Espinosa Aranda and Fernando Carrillo, also from Ineco.
The company has extensive experience in calculating and designing aeronautical charts for the publication of procedures based on PBN, GNSS, GBAS and vertical guidance approaches (APV SBAS), airspace restructuring –such as the restructuring carried out at Spanish airports and in countries of the likes of Egypt and Morocco– and navigation easement studies. Designs of instrumental flight procedures for the international market are also carried out, such as those implemented for the airports of the Sultanate of Oman, Cape Verde and Singapore Changi Airport.
In addition, in partnership with ENAIRE (formerly Aena), Ineco has carried out more than 2,000 radio simulations to assess the impact on airport CNS systems of infrastructures close to airports, such as shopping centres and housing developments, and within the airports themselves, for instance, new terminal buildings and runway extensions. To achieve this, the company uses its own NAVTOOLS proprietary software.
RPAS: all of the guarantees for drone flights
Ineco's RPAS radio navigation aid verification project, which was presented during WAC 19, is an innovative solution for in-flight recording of radio navigation aid signals and a console on the ground that makes it possible to determine the trajectory flown and quality of guidance provided by the radio navigation aid.
The company is certified to operate and owns a light commercial drone for inspection of bridges and viaducts, and has also acquired a drone with greater capabilities and autonomy able to carry payloads of up to 4 kg, enabling more complex operations to be carried out.
From SACTA to iTEC
In terms of automated air traffic control systems, Ineco has historically worked in collaboration with Enaire and other industry partners on the evolution and development of its control system, known as SACTA, which
was designed entirely by Spanish companies and is a benchmark at the European and global levels. The SACTA and ICARO systems and the ACC voice communication system (COMETA) provide all aeronautical information necessary for air traffic control in Spain and are constantly updated.
The company is currently collaborating with Enaire on the development of a future automated air traffic control system (iTEC). Ineco is also working on another fundamental element for air navigation safety: guaranteeing the quality of the aviation data that ENAIRE collects, publishes and supplies.