The problem of differing track gauges is not a uniquely Spanish one, but affects countries worldwide. According to the International Union of Railways (UIC, after its French name Union Internationale des Chemins de Fer), only 60% of the worldwide railway network uses standard track gauge (1,435 mm of separation between rails); moreover, it is not distributed evenly between continents. For various historical and economic reasons, the fact is that within the remaining 40%, there are more than 20 different measures ranging from 260 mm on some tourist railways in different parts of the world to more than 1,600 in the Spanish, Argentinean and Indian networks, among others. In Europe, there are four main track gauges: 1,000 mm (narrow), 1,435 mm (European standard), 1,520 mm (Russian gauge) and 1,668 mm (Iberian gauge).
Only 60% of the worldwide railway network uses standard track gauge (1,435 mm of separation between rails)
The Spanish railway network measures 15,215 kilometres, according to 2015 data from the Ministry of Public Works. It is configured with three track gauges: the majority are 'Iberian gauge' (1,668 mm) and standard gauge (1,435 mm), which was used from the 1990s in the construction of all high-speed lines; these currently total 2,875 kilometres in length. Part of this (613 kilometres in total) operates with Iberian gauge, although it is equipped with multi-purpose sleepers which are easily adapted to standard gauge.
In the northern part of Spain (mainly Galicia, Asturias and Cantabria), there is also the 'narrow-gauge railway' network built in metric gauge (1,000 mm), with a total of 1,269 kilometres in length. Currently, this is used for commuter trains and some tourist services, such as the Transcantabrico or the La Robla railway. At all points where these networks meet, both within Spain and where they connect with the Portuguese and French networks, there is gauge changeover facilities.
SQUARING THE CIRCLE
There are a number of methods for solving the problem of track gauge: freight can be moved from one wagon to another or axles changed; passengers can be transferred onto a different train; or, there is the solution developed in Spain: the automatic variable gauge changeover facility. This is a railway installation which allows a train equipped with a variable-gauge axle or semi-axle system to automatically modify its axle gauge as it passes at a constant speed (approximately 15 km/h) without human intervention.
Spain has been a pioneer in these automatic variable gauge changeover systems since 1968, when the manufacturer Talgo began to run commercial services between Madrid and Paris (Irún changeover) and between Madrid and Zurich (Portbou changeover facility). Subsequently, another rolling stock manufacturer, CAF, developed its own technology, making different facilities necessary for each manufacturer. Today, technology has evolved towards a single platform for variable gauge changeover.
For more than 20 years, Ineco has participantes in designios the majority of different generaciones of gauge changeover facilities
The next application for the automatic variable gauge changeover facility arose in the 1990s, with the first high- speed line running from Madrid to Seville. This was built in standard gauge, and three variable gauge changeover facilities were installed (at Atocha, Córdoba and Majarabique) to connect the line to the existing Iberian-gauge network. As high- speed infrastructure expanded, so too did automatic variable gauge changeover facilities. This has also made it possible, for a relatively low level of investment, to extend routes and reduce journey times for the conventional network.
For more than 20 years, Ineco has participated in designing the majority of different generations of gauge changeovers. It has provided services to Adif, the Spanish railway infrastructure administrator, and to manufacturers in different aspects of the development and implementation of this technology (see IT22): project drafting, technical assistance, project management, maintenance and exploitation for more than 20 automatic variable gauge changeover facilities across Spain. Currently, Ineco is responsible for the maintenance of variable gauge changeover facilities at Cerro Negro and Fuencarral (Renfe), Chamartín, Atocha, Majarabique, Alcolea del Pinar, Albacete, Valencia, Plasencia del Jalón, Zaragoza-Delicias, Huesca, Medina del Campo, Medina del Campo AVE, Zamora, Valdestillas, Palencia and León.
When it comes to moving over to the execution pase, it is essential to have coordination and feedback between the design and project teams in order to promptly address any difficulties
A PRACTICAL EXAMPLE: THE LEÓN CHANGEOVER FACILITIES
With the arrival of the North high-speed line to León, it became necessary to
install gauge changeovers to enable connections from there to Asturias and Galicia on 1,668 mm track gauge. This would also reduce journey times from Madrid to Gijón, A Coruña and Ourense.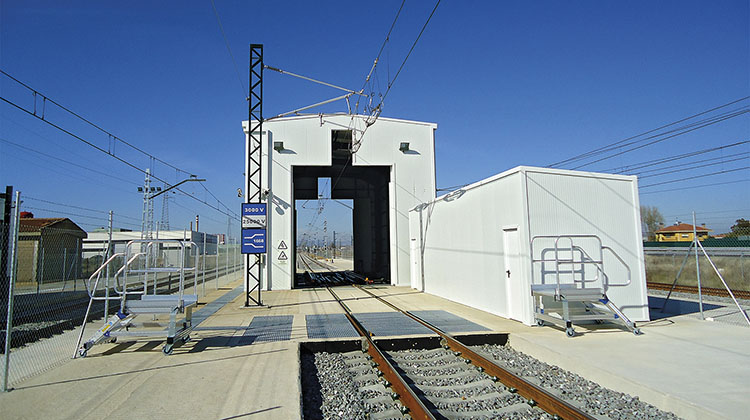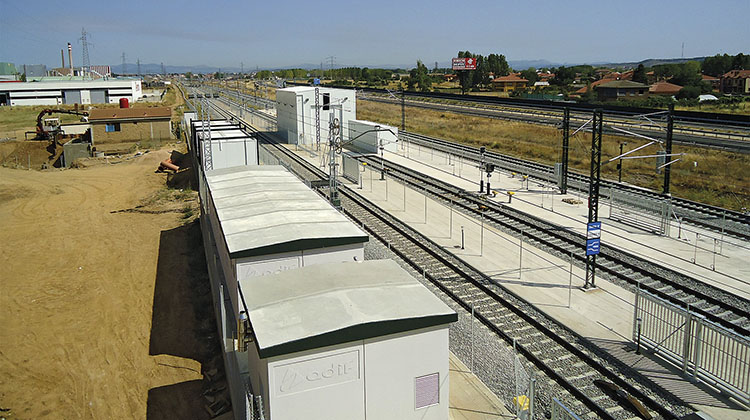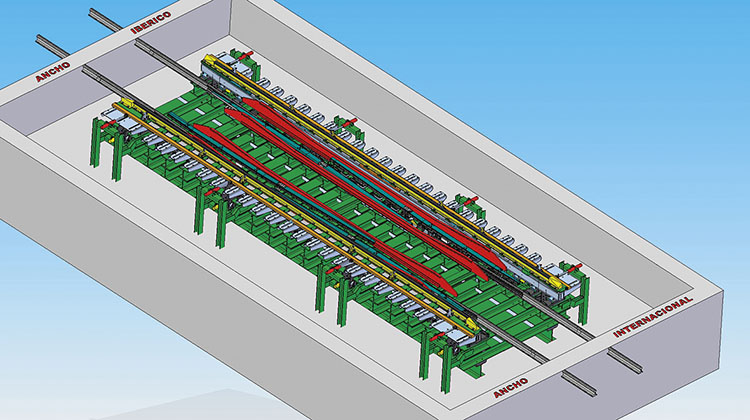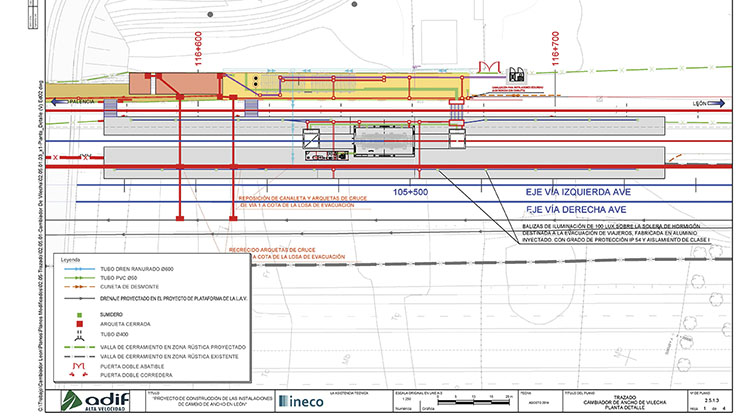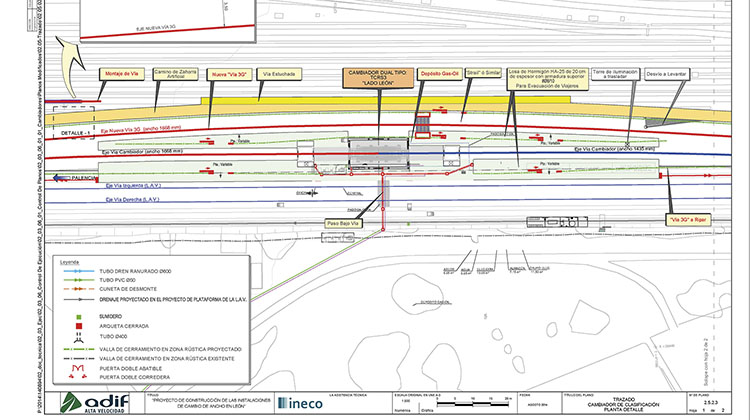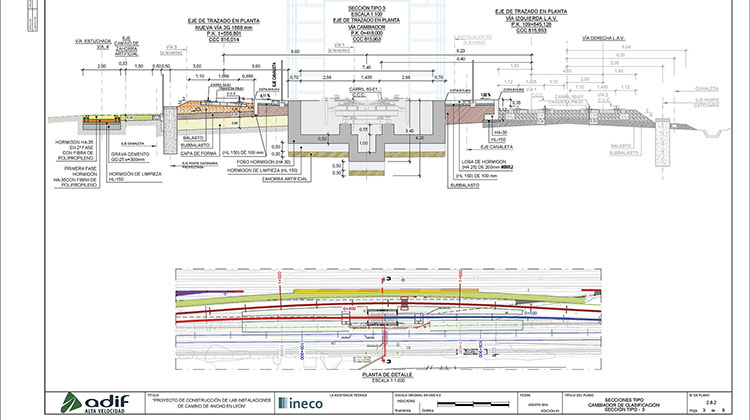 In this case, it was decided to install two changeovers instead of a single one, as this would facilitate direct services between Madrid and Gijón without stopping in León, improving reliability and capacity in anticipation of increased traffic in the future. In addition, the double installation meant that the journey time between destinations was reduced by 31 minutes, while a single gauge changeover would have increased it by 20 minutes.
FROM DESIGN TO CONSTRUCTION
There are multiple factors to consider when designing an automatic gauge changeover facility. These include: the type of changeover facility, depending on the different technologies in place (Talgo, CAF, dual or universal); the chosen location; the ownership of the land where the facility is to be built; the effect on other services; the connection between lines that not only have different track gauges, but also different energy subsystems (3 kV direct current and 25 kV alternating current) and command and control subsystems (ASFA and ERTMS). Similarly, it is necessary to take into account coincidence with rail beds owned by different bodies, the minimum lengths of access tracks to the changeover facilities, and the locations of drinking water and electricity supply lines. Technical difficulty also increases if, as is the case with León, construction is to take place in an urban environment.
A variable gauge changeover facility is a railway installation which enables a train equipped with variable gauge axles or semi-axles to modify axle gauge automatically without human intervention
When it comes to moving over to the execution phase, it is essential to have coordination and feedback between the design and project teams in order to promptly address any difficulties. In the case of León, for example, delays in obtaining the necessary land for the construction made it necessary to redesign the installations. Another example showing the importance of this combined work is related to the services affected by the construction, both internal (utilities and communications conduits) and external: gas distribution lines, sewerage network, electricity distribution, communications, etc. Data collection begins during the design phase and is completed during project execution.
Lucas Campillo
Master in Railway Systems, expert in superstructure and variable gauge changeover facilities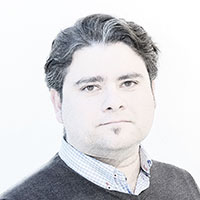 A VALUABLE EXCHANGE OF KNOWLEDGE
The design, project drafting, construction and commissioning of a high-tech railway installation such as an automatic variable gauge changeover facility requires multidisciplinary knowledge of all the railway and industrial subsystems. Ineco has accumulated this knowledge over a period of longer than 20 years: having made such significant interventions both in the planning phase and in construction and maintenance, we have produced a process of lessons learned which has made us experts in automatic variable gauge changeover. From the moment the contract is awarded, we bring together the "know how" acquired both in drafting projects and during the construction phase to address the many engineering challenges that arise during such a complex installation. This interaction is key to untying the Gordian knot that is often created by factors such as the location of the future automatic variable gauge changeover facility, period of execution or commissioning. But this flow of information generation and exchange does not stop with commissioning. This valuable exchange of information between the project planning and construction teams is continuous, leading to a constant improvement which is reflected in each new project, rationalising and reducing the cost of the infrastructure. The degree of specialisation and knowledge attained by the company is shown in the technical support it is providing to the Spanish Ministry of Public Works in drafting future IFI regulations (Instructions for the Project Planning and Construction of the Railway Infrastructure Subsystem) expected to be approved later in 2016. Ineco participates actively in the development, testing and implementation of automatic variable gauge changeover technology, both systems that are already in service (TCRS2 and TCRS3) and in solutions at the European level: the Unichanger (TCRS4) project, which can be applied to any geographic setting.
MOVING TOWARDS A UNIVERSAL TECHNOLOGY
The first generation of gauge changeover facilities, which extended in line with the development of high speed, could only be designed for one of the two variable gauge axle systems that existed in Spain: first for Talgo's RD (Variable Gauge) and then, from 2000, for CAF's Brava (self propelled variable gauge bogie).
A gauge changeover system was later developed that was suitable for both systems, named a dual changeover, which required less space. The first system of this type, the vertical TCRS2, was installed in 2001 on the Olmedo-Medina del Campo stretch. In 2007, the system was improved with the horizontal TCRS2 model, which simplified the structure and foundations and reduced changeover time from seven to five minutes. The first prototype was installed and tested in Chamartín (Madrid).
In 2009, Adif began the design and construction of the first single-platform TCRS3 prototype, which combined the technologies of the manufacturers CAF and Talgo. This resulted in a considerable reduction in the masses in movement during the gauge changeover process, consequently also reducing the duration of the process from five to just three minutes. The first prototype was trialled and approved in 2011 at the Roda de Bará variable gauge changeover facility in Tarragona, while the first units of the series were installed in León (Madrid–Asturias high-speed line) in 2015.
From 2009, with the support of the Ministry of Science and Innovation, a further step was taken with the Unichanger universal changeover facility project, denominated TCRS4, the fourth generation. In 2011, Ineco drafted the construction project at the trial and experimentation facilities associated to Adif's Rail Technology Centre in Málaga. In addition to changeovers between Spanish track gauges, this new generation also enables changeovers for the systems in Germany (Rafil) and Poland (SUW 2000), meaning the technology is exportable to other countries.
Currently, the company is drafting plans for the Vitoria variable gauge changeover facility project and participating in the construction of the facility in Burgos.