As it corresponds to the monumental city it is located in, Toledo's railway station exudes art and history: it was designed by the architect Narciso Clavería from Madrid and inaugurated in 1917. Ceramic from Toledo, stained glass, coffered ceilings and wrought iron elements, such as the exterior fence, decorate this Neo-Mudéjar building characterised by the use of brick on its exterior and ornamentation reminiscent of Arab architecture: polylobed arches, crestings, geometric designs…
The passage of time has left its mark on this building, declared Heritage of Cultural Interest in 1991. The renovation work required quality artisan interventions.
An unusual clock tower –whose use at that time was restricted to other types of official buildings to symbolise their importance– stands over the station; the passage of time has left its mark on this building, declared Heritage of Cultural Interest in 1991.
For this reason, Adif began renovation work in 2015 on the rooftop, façades and the tower, in addition to other buildings. In 2013, Ineco drafted the construction project and provided its construction management services to the railway infrastructure administrator; the project required quality artisan interventions in order to recover extremely delicate elements such as the glazed ceramic tiles and merlons, the work of ceramicist Ángel Pedraza, a native of Toledo.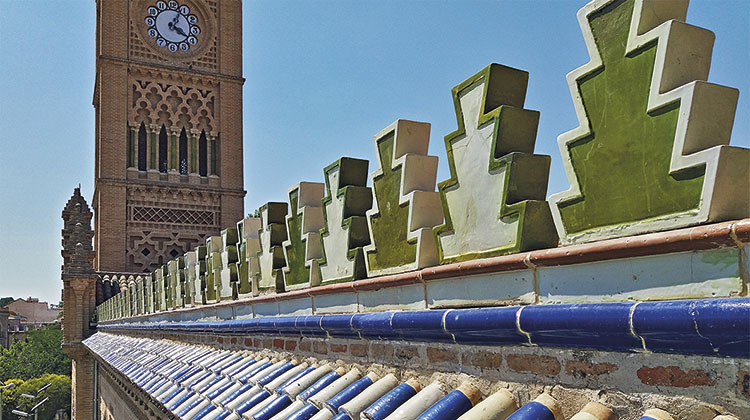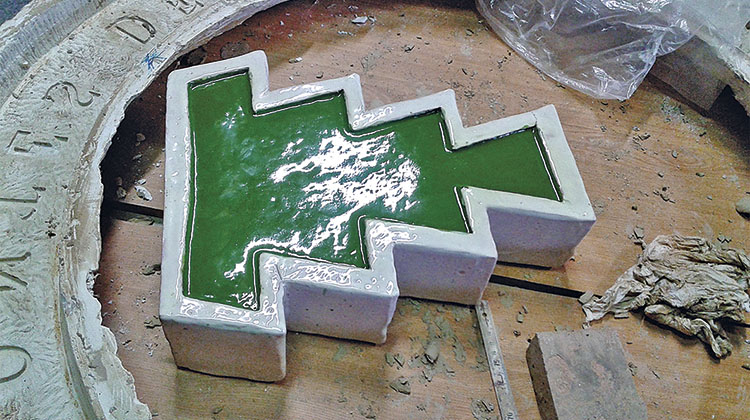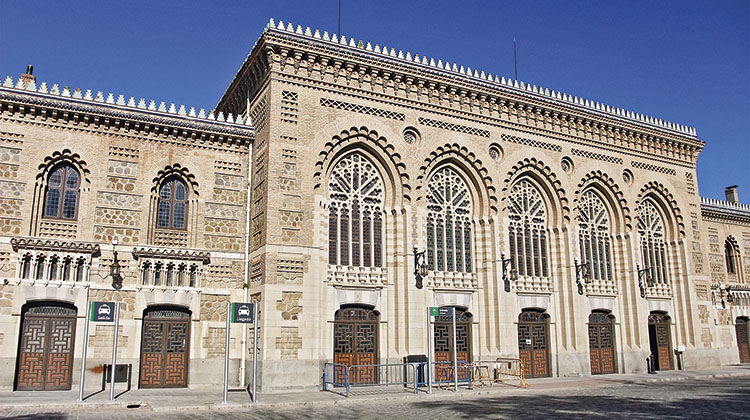 In another, independent project awarded in July, Adif completed this work with the renovation of the station's large iron lamps: the lamps were waterproofed and repaired and the lighting system was updated with LED technology.
Adif had formerly carried out, also in collaboration with Ineco, another remodelling process, finalised in 2005, to implement a high-speed line.
Repairs carried out
Repair of the passenger building roof: replacement of Arab-style tiles, white and blue-coloured glazed tiles on false overhangs and ceramic elements on crestings; replacement of gutters, drains and downspouts. Repair of the underground rainwater drainage system which connects the downspouts to the sewage pipes located under the station's main platform.
Refurbishment of the left side of the building–first floor (formerly houses) and the ground floor, except for the travel centre: sanitation work on partitioning and walls including elimination of dampness and repair of exterior carpentry to keep spaces in the façade watertight.
General restoration of the tower: general clean-up including bird excrements caused by their entry into the tower, sanitation work on the interior of the façade (walls and ceilings), repair of carpentry and replacement of broken glass to prevent the entry of birds.
Façades: repair of cracks and elimination of efflorescence; restoration of decorative stained glass carried out by specialists on the side of the building.