An Instrument Flight Procedure (IFP) sets out the manoeuvres and trajectory that an aircraft must follow to safely enter and exit airports, avoiding obstacles.
The International Civil Aviation Organisation (ICAO), which is responsible for promoting the safety, efficiency economics of international air transport, considers instrument flight procedures to be an essential component of the aviation system. It is therefore essential that these procedures be designed to meet strict quality requirements, such as those contained in the Quality Assurance Manual for the design of flight procedures. The European Commission, within the framework of the Single European Sky, has also published a specific regulation, ADQ (Aeronautical Data Quality) which complements and reinforces the requirements defined in ICAO Annex 15.
In order to meet all of the quality requirements of international standards, specific software tools are required, in order to automate the design process and ensure the accuracy, precision and integrity of the aeronautical information on which air navigation depends. This is the context for EOS, a new software product developed entirely by Ineco as a corporate tool for the design of flight procedures. Following the completion of the development and internal validation phase in December 2019, EOS is ready to be put into production flight procedures based on area navigation (RNAV) as well as on conventional navigation.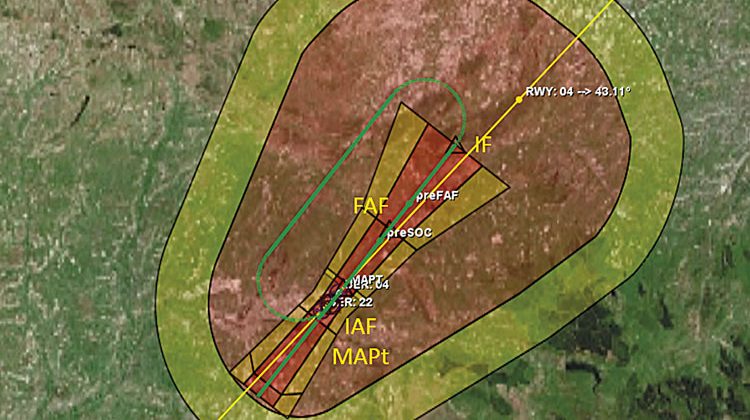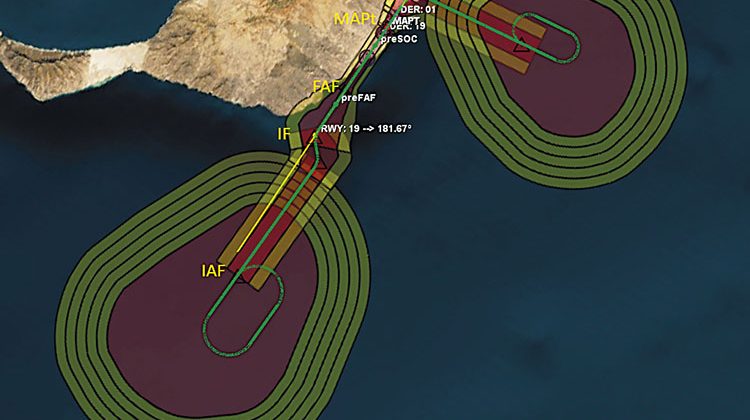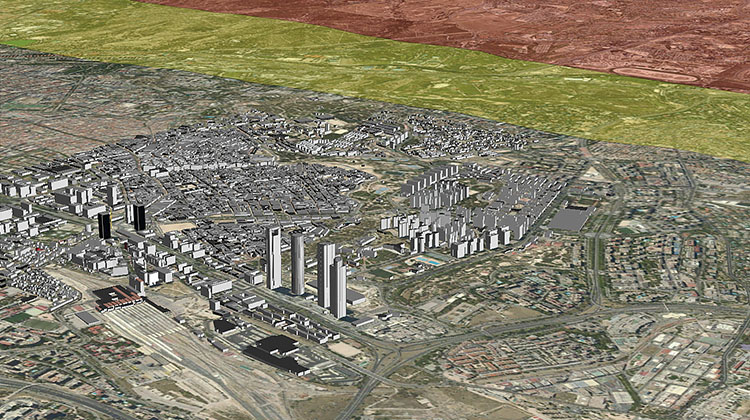 What is EOS?
In order to design an instrument flight procedure, a set of areas and surfaces associated with the nominal track of an aircraft are defined, where existing obstacles and terrain are assessed with an appropriate Minimum Obstacle Clearance (MOC).
EOS reliably and efficiently performs these spatial geometric calculations, combined with a GIS and a 3D visual interface. The application is also capable of assessing whether terrain obstacles and elevations could affect the flight safety of an aircraft following that associated nominal trajectory. These trajectories may be those corresponding to departure manoeuvres (SID), arrivals (STAR), approaches (APP), ATS routes and holding procedures.
It is a desktop application, developed in Java within the NavTools suite also created by Ineco, for the management and use of digital terrain models (DTM), and is compatible with other proprietary tools for the study of rights of way, radio conditions and CNS systems in the airport environment. It is supported by the GIS developed by NASA, (NASA WorldWind) using highly accurate digital terrain and surface models to recreate each scenario.
Project development
EOS was developed as an internal innovation project by a multidisciplinary team, made up of aeronautical, telecommunications and computer engineers, with extensive experience in IFP design spanning more than 10 years.
In very broad terms, air navigation, since its origins, has evolved from being strictly visual to relying more and more on technology as it evolved, making instrument navigation possible. At the start of the 21st century, the multiplication of specifications, systems and equipment, as well as increasing airspace congestion, made it necessary to move towards the unification of standards.
Consequently, area navigation or RNAV has given way to a new concept promoted by ICAO since 2008: PBN, or performance-based navigation, as opposed to sensor-based navigation, i.e. physical equipment (VOR, DME, ILS, NDB, etc.). PBN has been increasingly used by air navigation service providers around the world for the development of new instrument procedures because it facilitates their design and enhances the utilisation of aircraft capabilities.
As the specifications for the design of flight procedures were developed along with the PBN concept, shortcomings in the commercial tool in use at Ineco became apparent. This led to the development of a new proprietary tool, EOS, which, in addition to providing new features, allowed for a faster implementation of changes.
The project was implemented and managed using the software development methodology implemented at Ineco, CMMI level 3. It complies with the ADQ (Aeronautical Data Quality) since it is based on the AIXM 5.1.1 standard (aeronautical information exchange model, see IT 70) that is required internationally.