Achieving a sustainable environment is one of the most important global challenges. Ineco puts that challenge at the heart of its business, with its customers and staff, as well as with society in general. The company has extensive experience preparing strategic plans and other plans such as urban mobility plans, applying a global perspective and focusing on key aspects such as safety, resilience, equitable access, intermodality and efficiency. The Company's contribution to the fight against climate change has strengthened in recent years. It has taken part in projects such as Adif's Fight Against Climate Change Plan, Aena's Climate Change Strategy and projects in railway energy supply and energy certification for buildings.
Some of the more important projects carried out to improve quality of life of society include strategic noise mapping, investigation of atmospheric and hydrological pollution and acting as technical management on civil engineering projects. It has also made an important contribution to the design of inclusive infrastructure and implementation of many projects involving public participation.
Those actions respond to the growing concern within public authorities and the wider community regarding sustainability, in line with the Spanish Sustainable Mobility Strategy (EEMS) of the Ministry of Transport, Mobility and the Urban Agenda, which provides a country-wide framework to foster a low-carbon, lower-energy economic model, following principles of social justice and fair distribution of wealth.
Staff involvement
In this context, Ineco encourages its staff to care for the environment and be socially responsible, in line with the values and principles that govern the United Nations Global Compact, which it joined in 2008. One example of this are the activities that have taken place over recent years, such as the annual celebration of Environment Week to commemorate World Environment Day, on June 5, including workshops, round-tables, volunteering, competitions and other activities, all based on the themes chosen each year by the UN.
Ineco also offers the Environment Prize, an annual award for the most pro-environment project in the company. Winners in recent years include: the installation of brake-energy converter-regenerators at several substations on the conventional rail network (2017), raffling of unneeded IT equipment among the staff (2018), and the creation of the 'digital twin' (A-76 Highway) to modernise the environmental management of infrastructure (2019).
Ineco's environmental impact
In 2019, the company's carbon footprint dropped to a total of 9,355 tonnes of CO2 equivalents. That represents a reduction in our carbon footprint from 3.27 tonnes of CO2 equivalents per employee in 2018 to 2.47 tonnes per employee in 2019, and a reduction against turnover from 34.77 tonnes to 30.71 tonnes of CO2 equivalents per euro of turnover.
Reforestation in Gredos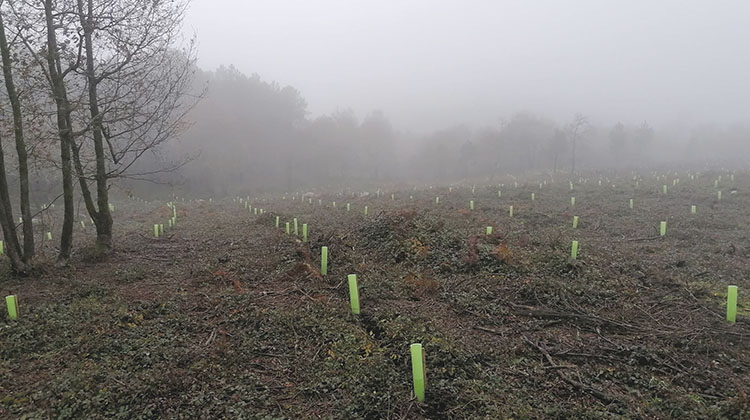 To reduce its environmental impact, fight climate change and contribute to the achievement of the SDGs, Ineco offset part of its carbon footprint in 2019 through the planting of native species of tree such as pine, birch and rowan in Sierra de Gredos Regional Park (Ávila). The 750 trees planted on Monte Orzaduero will absorb a total of 135 tonnes of CO2 over 40 years*.
*Using figures contained in the Register of Carbon Footprint, Offsetting and CO2 Absorption Projects kept by the Ministry for Ecological Transition and Demographic Challenge.