The study, commissioned by the Metropolitan Environment Secretary of the Mayoralty of Quito and financed by the Development Bank of Latin America (CAF), aims to meet the local needs to manage the approximately 2,000 tonnes a day of waste with a high level of organic material produced in the city. The Government and local authorities have taken various actions to ensure integrated waste management under the concept of 'Zero Waste', based on managing efficiently, effectively and innovatively the processes of generation, collection, use and final disposal.
With this programme, Quito wishes to transform the management of the waste generated by the more than 2.5 million inhabitants of its Metropolitan District (DMQ), which is the most populated area in the country. For this, the Environment Secretary has drawn up a strategy to reduce the total amount of waste currently taken to the city's landfill site by 10% by 2025.  This landfill site, referred to as 'El Inga', is approaching its capacity limit and will soon no longer be able to hold all the waste produced, hence the need for an imminent solution to the problem.  Among the plans laid out are 'containerisation' of waste (a technique consisting in mechanisation and automation achieved using containers), construction of sorting and treatment plants, and the implementation of citizen-oriented awareness-raising campaigns on recycling and waste reduction.
The city government has entrusted Ineco with leading the drawing up of the master plan
To deliver these plans, the municipal government has commissioned Ineco to lead the Master Plan for Comprehensive Waste Management for Quito for 2016-2025, which it has carried out in collaboration with Tragsatec, also a Spanish company. The main aim of this environmental consultancy has been to set out a realistic, economically sustainable waste management system that is flexible in its organisation and supported by a new, stronger legislative framework. The plan is a comprehensive update of that developed in 2012. Some of its main targets are: to increase mechanised collection by 40%, to boost new alternative models for handling waste by 60% by 2019, and to reduce production of solid waste per capita by 5% by 2025, the target date set for the plan.
The document defines management models for different types of waste: domestic, special (including demolition and construction), dangerous (including sanitary) and industrial. It also includes an economic and financial analysis, a proposal for organisational remodelling and a proposal for the legislative framework that regulates the provision of public 'containerisation', transport, and waste treatment and disposal services, as well as the activity of private agents.
Diagnosis of the current situation
The city of Quito's current waste management system is insufficient to cope with current demand, therefore it is necessary to expand services and facilities for proper waste collection and treatment. Such is the case of containers, mobile means or specific treatment centres. Regarding waste from construction and demolition (debris), citizens do not have enough disposal sites for debris arising from small projects or domestic refurbishment.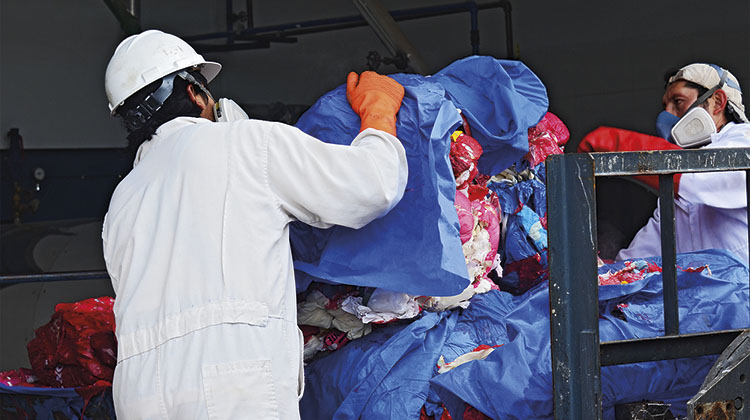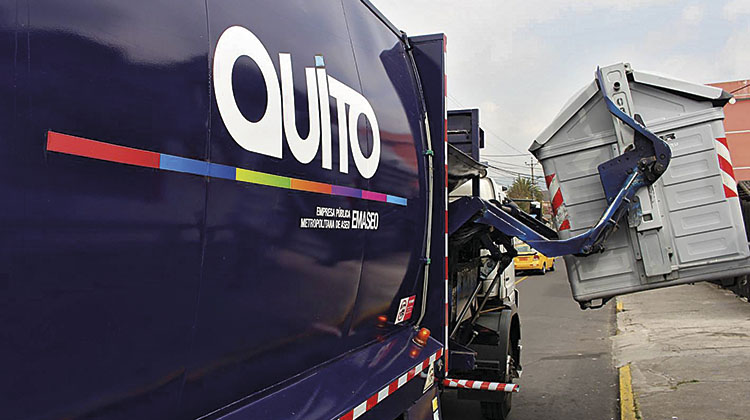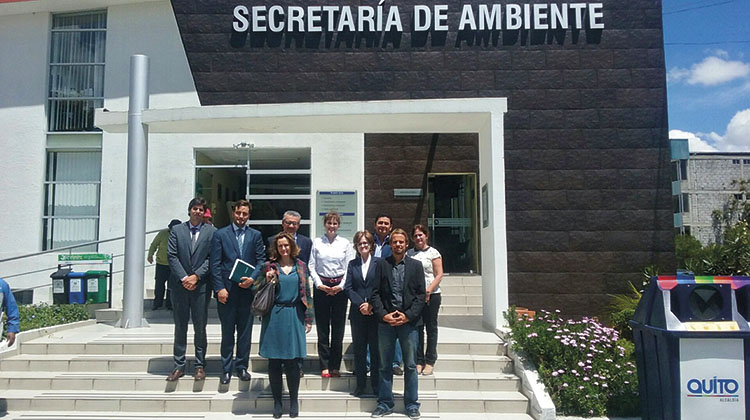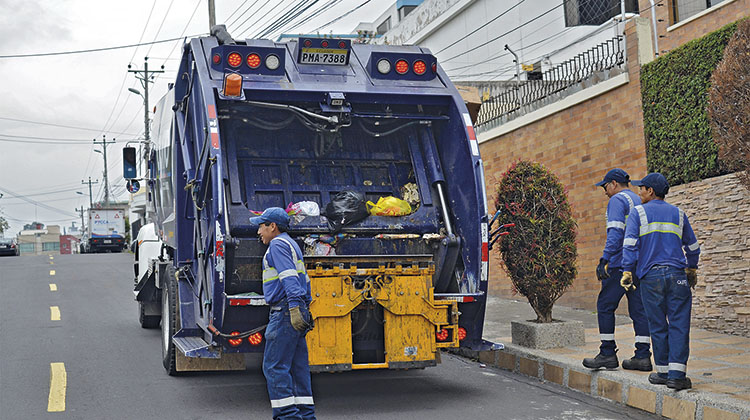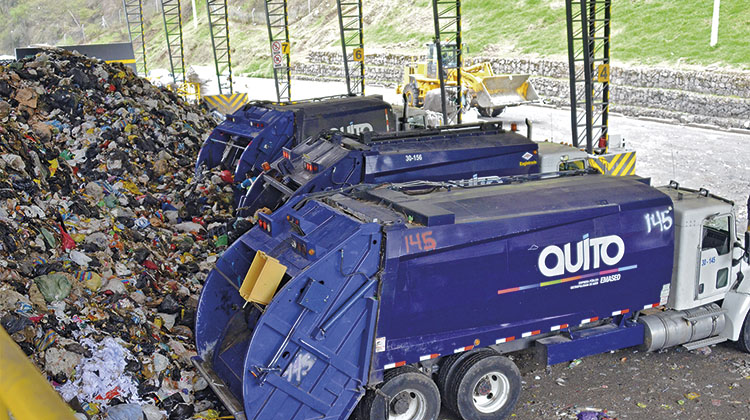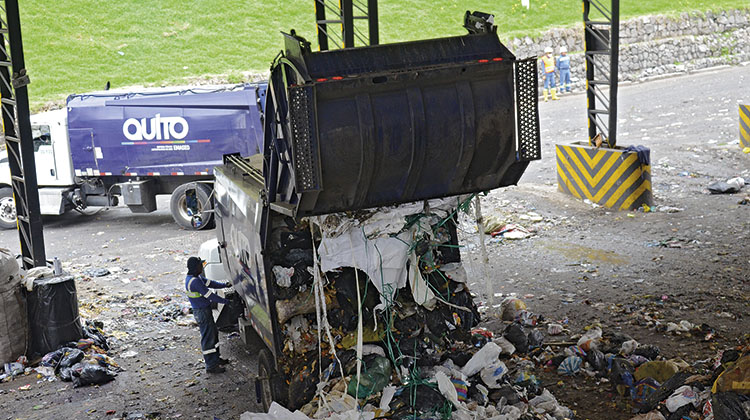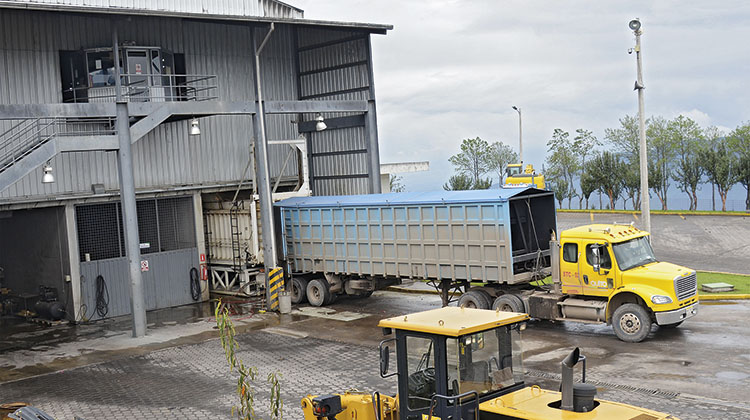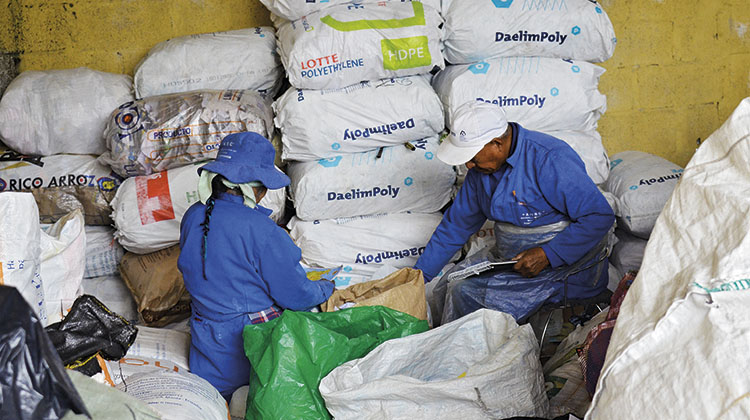 Additionally, the use of illegal tips persists, and current tips do not have sufficient capacity in the medium term.  To the practical aspects such as the lack of freight lorries and sorting containers we might add citizens' lack of awareness of how to sort waste at the source: with the lack of a recycling culture, citizens and companies dispose of waste in unsuitable places or give it over to unauthorised agents.
Local authorities are aware that, in order to make the necessary means available to citizens, it is vital to establish in parallel a new organisational and legislative system that protects the most disadvantaged, defines land use and establishes the obligations and functions of the agents involved.
Environmental regeneration in Quito
The plan put together is an ambitious environmental project spanning several aspects of great importance: from citizens' education and awareness raising  –a fundamental aspect in any initiative towards sustainability– through acquisition of plants and recycling systems or the construction of an incinerator for deceased urban wildlife, to the elimination of all illegal tips and construction of new clean points and treatment centres.
The aim is to be able to serve 98% of the population with waste collection services by 2025
Among the 48 action lines planned are included: building a treatment plant for organic matter to obtain compost, an anaerobic digestion plant for organic matter to obtain biogas, and four manual plants for the sorting and classification of recyclables for their subsequent treatment; and all adhering to social inclusion principles.
Achieving the 'Zero Waste' targets also means changing the culture, which will require active participation from politicians, public sector workers, public and private employers, and all citizens. In drawing up the comprehensive management model, Ineco's experts have taken into account current and future types of waste, so as to determine their components and establish the policies to pursue with each of them. The aim is to be able to serve 98% of the population with waste collection services by 2025.
For the plan to succeed, the Metropolitan District of Quito (DMQ)'s recruitment policy will include standards promoting the use of products manufactured using recycled and/or reused materials, such that there will be new legislation in 2018. The economic sustainability of the waste management system will require a system of taxes and cost allocation that pays heed to the various strata of buying power.
The important figures of the Plan
2.4 million inhabitants in the metropolitan district.
2,000 tonnes of waste per day (2015).
40% increase in mechanised collections.
5% decrease in the amount of waste per capita in 2025.
Developing awareness-raising programmes that reach 5% of the adult population and 33% of students every year.
Working towards recycling comprising 25% of generated waste by 2025.
Treating 100% of all recyclable waste collected in 2022.
Committing at least 2% of the waste management budget to R&D&I by 2025.
…And the key points
Set targets until 2025 for waste generation, recycling and reduction.
Establish rates for waste generation in public spaces: quantity and density of waste generated by type and, if possible, by area.
Offer a system of waste collection, exploitation, treatment and final disposal. This system takes into account:
– Type of waste (domestic,  construction and demolition waste,  sanitary, special and dangerous).
– Current collection system for each type of waste.
– Current system for recovering recyclables and quantities recovered in recent years by type of material.
– Current systems for recovering energy from waste and quantities generated in recent years.
– Treatment centres for each current type of solid urban waste: capacity, dimensions, technology available, costs of treatment and labour employed.
– Waste storage facilities available for different types of waste: construction features, dimensions, current filling status and remaining useful life, exploitation of biogas, storage cost and labour employed.
– Current contracts for management  of solid urban waste treatment  in the District of the Municipality of Quito, scope and cost per year.
– Geographical information: current  location of contamines, container type and  capacity; level of occupancy of homes; track centres; collection flow; distribution of shops and businesses.
Establish an effective organisational model, in which functions and responsibilities are set within a municipal institutional structure.
Perform a financial analysis of the situation and its evolution over recent years. For this, the weighing data of transfer stations and the 'El Inga' landfill site are analysed.
Establish a legislative framework that brings clarity, definition of responsibilities and safety to the activities and actors involved.