Physical security and operational safety are a fundamental pillar of all aeronautical activity and are at the centre of all procedures affecting air navigation, passengers, airport staff and the airport itself: among others, the inspection of baggage and cargo, access control, airfield signalling, the maintenance of vehicles and facilities, and action plans in the event of an emergency or disaster.
Ensuring that all these elements comply with safety levels established in aeronautical legislation (and monitoring them through the use of quality indicators) guarantees not only reliable and efficient air transport, but also international recognition and greater attention from airlines, which can boost the airport's growth. It is for that reason that ENANA (the Angolan National Enterprise for the Operations of Airports and Air Traffic Control), which operates the country's airports and air navigation services, has again turned to the experience of Aena Internacional, which through Ineco has carried out its second project at the capital's 4 de Fevereiro airport. Preliminary studies were carried out in 2012 (see IT48), and are now being given continuity.
This first approach focused on the analysis and detection of potential risks and needs for safety, and the development of a total of 21 proposals for immediate corrective actions. These measures were grouped into 7 areas: infrastructure, equipment, airport services, documentation, real-time management, strategy and maintenance. In addition, Ineco and Aena Internacional developed operating and safety procedures and an Operations Management Plan (OMP), focusing on planning and real time. To raise awareness among airport staff of all the actions, a plan of training was delivered, totalling 196 hours for 220 participants. In addition to the safety proposals, a proposal for the commercial exploitation for the airport was also developed. This new project has seen advances in the development of these measures, which are specified in different plans. Works were carried out in two pases.
4 DE FEVEREIRO INTERNATIONAL AIRPORT (LUANDA)
Luanda airport is currently the country's only international airport. Built in the 1960s, it was expanded and renovated in 2009 and has a capacity for 3.6 million passengers per year. Over half of these are international travellers, with 65% coming from other African countries and 15% from Europe. The airport is both for civilian and for military use, and has two runways, 05/23 (3,715 x 45 m) and 07/25 (2,600 x 60 m). In terms of aircraft, it is worth highlighting the Boeing B737-700, which is used by the main airlines operating at the airport.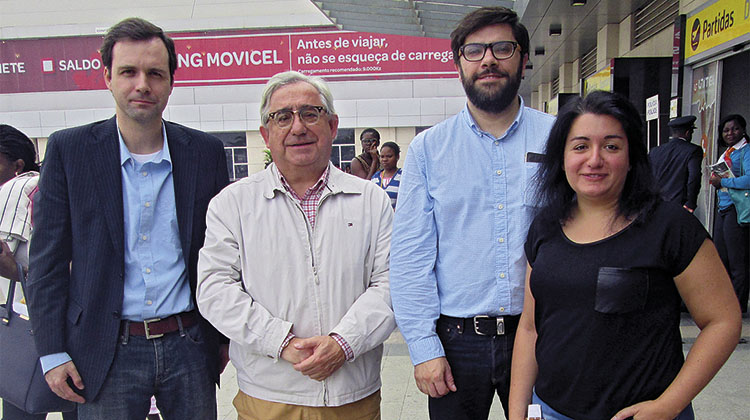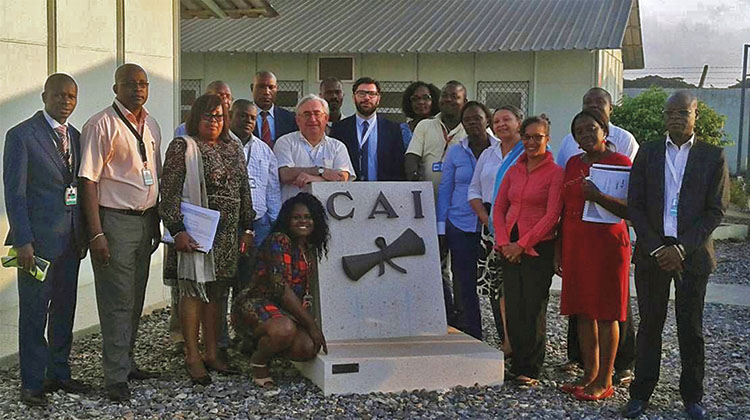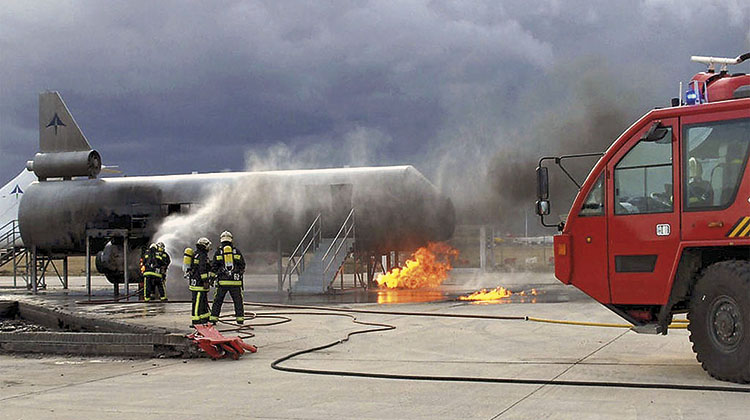 SAFETY AND EMERGENCIAS
The airport safety programme assigns responsibility, competences and obligations in the area of safety between airport management and the departments that organise and provide the services involved; defines restricted areas and safety measures both in the air and on land as well as the regulations in force for vehicle checks, the control of weapons and hazardous substances and goods, and the transport of passengers who are ill, have been detained or deported or are deceased, etc.
The emergency and contingency plans are designed to cover any serious situation affecting safety at the airport, from criminal acts to aircraft accidents inside or outside the premises of the airport. The objective of the contingency plan at 4 de Fevereiro airport is to identify and to coordinate what action protocols are to be followed in the event of an aircraft being hijacked or sabotaged, and, according to the level of threat, what measures must be taken by each body: airport staff, ENANA, armed forces, the police, the fire service, hospitals and medical services, etc. In parallel, Annex 14 of the ICAO requires that each airport have a specific plan for situations involving aircraft or aeronautical emergencies, such as accidents inside and outside the airport, and other situations such as natural disasters, accidents with hazardous goods or medical emergencies. The purpose of the emergency plan is to minimise the repercussions of such situations, to avoid the loss of human life, to safeguard the integrity of the facilities and to resume normal airport activity as early as possible. To that end, the document identifies possible risks and establishes command and communication procedures to be followed in order to avoid improvisation and the lack of coordination. The emergency plan includes the preparation and organisation of emergency drills in the airport and the drafting of a guide to carrying this out.
The airport safety programme assigns responsibilities between management and organisational departments
The project's scope also covers the Safety Management System (SMS), for which a gap analysis was carried out on the current situation, 10 procedures were drafted and a plan was established for the implementation of the System. Another crucial safety element, considered strategic by ENANA, is the training of trainers, for which a course is being planned.
AIRPORTS IN RECONSTRUCTION
After a civil conflict lasting 27 years (from 1975 to 2002), Angola, which according to the World Bank currently has a population of 24.2 million, started its reconstruction. During the first 10 years of the century, it recorded dramatic economic growth, with average GDP growth above 11%. This was mainly based on the extraction of oil (Angola is the second largest producer in Africa, after Nigeria, and the eighth largest exporter in the world) and diamonds. Investment in all kinds of infrastructure, including for transport, is both a practical necessity and a crucial part of the economic diversification strategy. Regarding air transport, in addition to building a new airport 40 kilometres from the capital, which ENANA expects to be operational from 2017, works to renovate regional airports have been underway since 2008. These are distributed between the 18 provinces which make up the country's expansive territory of 1.2 million square kilometres. The 4 de Fevereiro airport, located in Luanda, has also benefited from renovation and improvement works, including consultancy from Ineco and Aena Internacional.
APRON WORKS
A fundamental aspect of operational safety is that the aircraft parking apron or ramp and the taxiways are properly marked, in accordance with ICAO manuals. At Luanda airport, shortcomings were detected in this area, especially for aircraft stands. In addition, the apron is shared by different types of aircraft (planes and helicopters); this constitutes a potential hazard both for aircraft themselves and for people and vehicles. Three types of actions are recommended in response to this.
Firstly, a topographic survey at a scale that would allow plans to be drawn up. Secondly, the definition of requirements for the design of the apron, taking multiple factors into account: the air traffic volume and forecasts, the types and sizes of aircraft, and whether they are commercial, military or for general aviation, their stops (national or international, terminals, transit, etc.), margins of separation from other aircraft, buildings and objects, etc. It is also necessary to analyse the means of access to aircraft parking (autonomous or with the assistance of a vehicle to tow or push the aircraft) and the distance to other installations (terminal, hangars, etc.), aircraft's requirements of land-based assistance (fuel supply services, baggage handling, etc.). Additionally, the design of the apron should take into account the space available, the type of surface, jet blast, the time that each aircraft will occupy a stand and the time taken for another to occupy it, etc.
Advances are also being made in the commercial development of the airport, a field to which Aena Internacional has contributed its broad experience
Finally, taking into account all these design requirements and in compliance with ICAO criteria, the signalling study and planning will be carried out. This will cover aircraft stands, taxiways, service lanes and helicopter pads.
COMMERCIAL PLAN
Advances are also being made in the commercial development of the airport, a field in which Aena has contributed ample experience (see IT54). To achieve an increase in non-aviation income similar to that of other international airports (in Aena's, this accounts for 26% of total income), an analysis was carried out into passenger demand, the most appropriate type and range of offering (including catering, duty-frees, VIP lounges, parking, etc.), and the design or layout of commercial spaces. The plan also included how the exploitation and contracting of the different spaces are to be carried out (direct exploitation by the operator, concession to third parties, etc) and how it is to be planned and managed. All of this is gathered in a business plan which included the participation of Carlos Porrón, from Aena Internacional.
EXPERIENCE
Development and update of operating procedures for the two new runways and the new terminal T4 at Madrid-Barajas airport (2004–2006) and terminal T1 at Barcelona-El Prat airport.
Support to Operational, security and services management at Aena's Central Services for more than 10 years.
Support to the Spanish Aviation Safety and Security Agency, AESA, in authorising, inspecting and certifying privately-run airports for public use, and other tasks (2009–2011).
Review and update of the Emergency plans and Self-protection manuals for the 47 airports and heliports in the Aena network.
Process improvement at the Management Centre of Aena's H24 network.
Obstacle studies for various airports in the Aena network and for other international airports (Oman, Costa Rica…).
Apron planning, design and signalling studies for airports in Spain (Madrid, Barcelona, Málaga, Alicante, Lanzarote…) and abroad: Nairobi and Kuwait.
Planning and design of commercial spaces for Aena for more than 12 years.