Its extensive experience in the planning of high-speed lines, gained over the course of many years of constructing the Spanish network, led Adif, an Ineco shareholder, and the Indian state-owned enterprise High Speed Rail Corporation of India Ltd (HSRC) to sign a collaboration agreement in 2016. Adif and Indian Railways (IR), the parent company of HSRC, began collaborating in 2012 after the signing of a tripartite memorandum of understanding between Adif, Renfe and IR, establishing a framework for collaboration between the three companies in areas of technological development. This process of cooperation has led to recognition of Adif and other companies in the Spanish rail sector by one of the world's major markets: India. The country has 64,460 kilometres of railway lines, on which more than 18,000 trains and 20 million people travel on a daily basis, an enormous and complex network that the government proposes to renew by modernising its infrastructure and improving travel times and safety.
In April 2015, India's Ministry of Railways asked the Spanish Ministry of the Economy and Competitiveness to carry out a feasibility study for a high-speed line between Mumbai and Nagpur, the first phase of the Mumbai-Kolkata corridor. The study was entrusted to Ineco and Adif, with up to 80 people involved over a period of 24 months, and with the goal of providing HSRC with sufficiently detailed technical, economic and environmental data and criteria to enable it to make decisions with respect to the development of high speed in the country.
The section between Mumbai and Nagpur, running through Maharashtra (India's second most populous state with more than 100 million inhabitants), will complete one of the routes of the so-called 'Diamond Quadrilateral', a project to connect India's four great metropolises –Mumbai, Kolkata, Chennai and Delhi– through a network of 11,000 kilometres of high-performance railway lines.
The project carried out by Ineco and Adif included the initial step of analysing 10 alternative routes at a scale of 1:50,000 and preparing a study of the demand and of the existing transport network to enable selection of the best three routes to be studied in greater detail. These three alternative routes were then defined and analysed, including estimates of operating speed and travel times for each one. The result of this analysis, presented to and validated by HSRC, was the selection of 'Alternative 2' as the optimum HSR route to be developed in the feasibility study to be executed through the cities of Mumbai BKC, Thane, Nasik, Aurangabad, Akola, Badnera/Amravati and Nagpur. Lastly, the study and technical definition of this alternative was carried out with the participation of experts in the design of high speed projects, construction, station building, signalling and communications, and specialists in track integration and deployment of gauge-changeover facilities.
In summary, the study included demand studies; prior analysis of the different routing alternatives; an operational plan with calculation of travel times and traffic grids for different scenarios; a rolling stock proposal; analysis and selection of railway technology to be implemented (gauge, track superstructure, electrification, safety and communications facilities, etc.); necessary special works; redevelopment and relocation of the population from affected areas; environmental analysis; rail operation and maintenance; cost estimates; and, finally, an economic/financial analysis that will be used to determine the viability of the new high-speed line, as well as a financing proposal for the project.
To carry out the study of medium and long-term traffic demand, the mobility needs and socio-economic characteristics of the populations along the entire corridor were analysed in conjunction with local development plans and United Nations population growth projections. In addition, a temporary demand scenario was developed for several years ahead, determined by the development of the infrastructure in phases: 2025 (Thane-Nasik), 2030 (Thane-Nasik-Aurangabad), 2035 (Thane-Nasik-Aurangabad-Akola-Badnera/Amravati-Nagpur) and finally 2050 with arrival in Kolkata.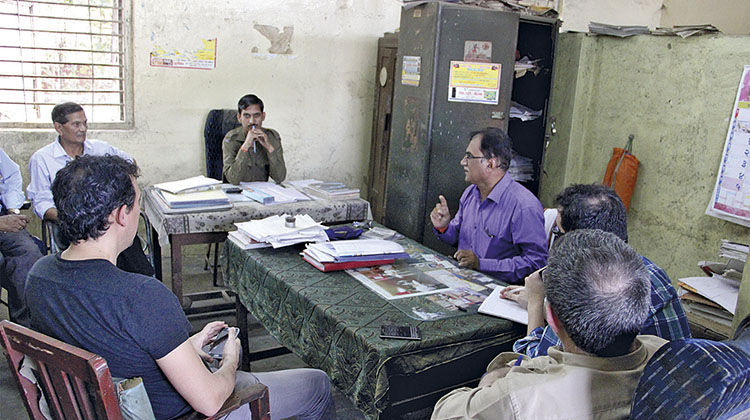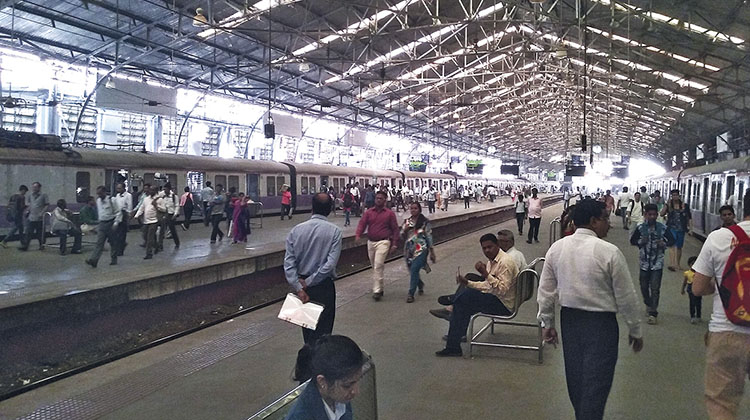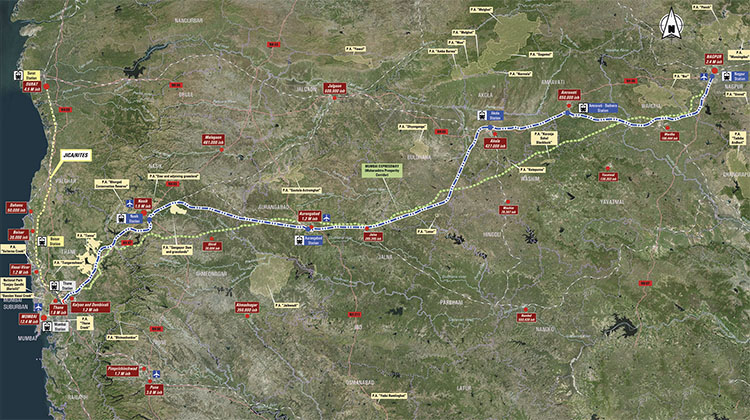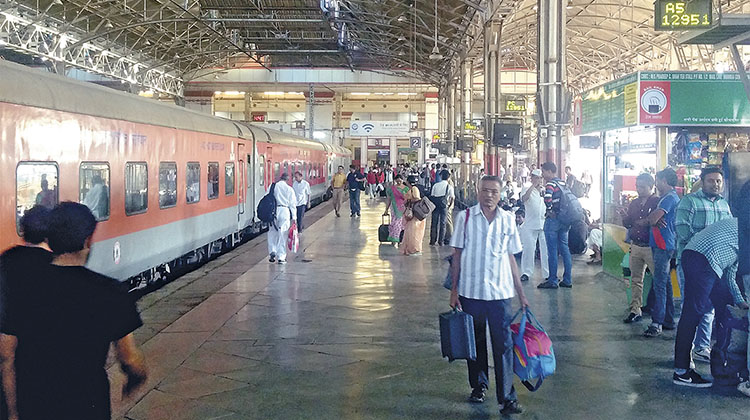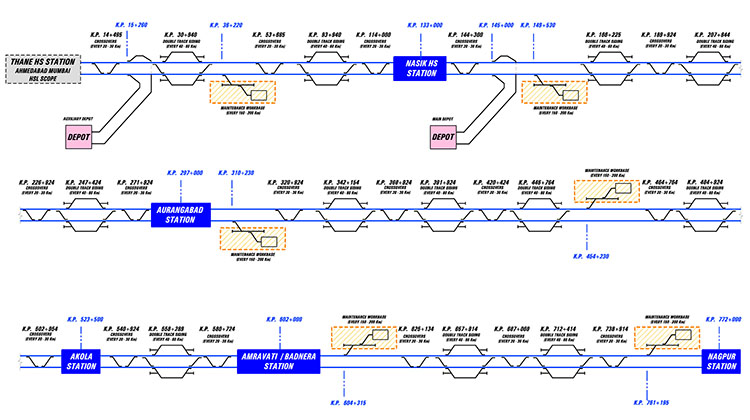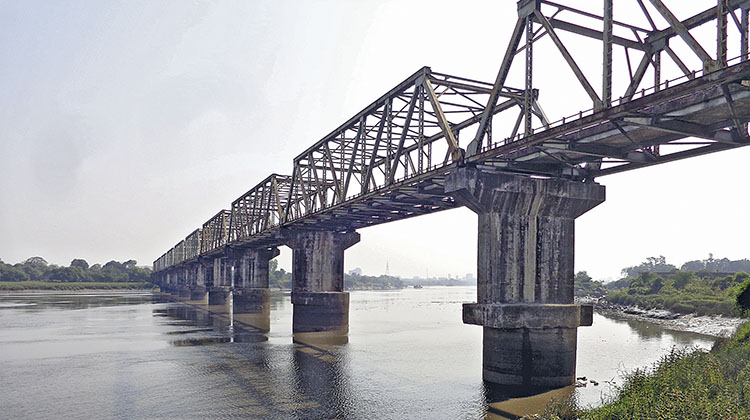 Technical definition of the corridor
The section consists of double-track line exclusively for passenger traffic and five new stations (Nasik, Aurangabad, Akola, Amravati/Badnera and Nagpur), with connection at the Thane station of the Ahmedabad-Mumbai project being developed by Indian Railways. The infrastructure is designed in accordance with European standards including tunnels, viaducts and special infrastructures. The entire track runs on ballast except in stations and tunnels longer than 1.5 kilometres, where slab track is used. Functionally, the line is standard-gauge double track designed with sidings every 40-60 kilometres and intermediate crossovers every 20-30 kilometres, which provides maximum operating flexibility.
Cuts more than 30 metres high will require the construction of tunnels, eight in total, one of which will be a twin-tube tunnel 7 kilometres long excavated with a tunnel boring machine. Embankments of more than 15 metres will require special works such as bridges or viaducts and it is anticipated that a total of 526 structures will need to be constructed to negotiate obstacles such as rivers, railway lines and roads.
As for the five proposed stations, four standard models have been designed to optimise the size of the buildings and tailor them to actual passenger volumes. Maintenance workbases have been located every 150 kilometres and as much as possible close to towns and cities to facilitate the movement of personnel; the main rolling stock depot will be in Nasik, with a second auxiliary depot located on the outskirts of Thane (Mumbai). The project includes a preliminary proposal for the installation of 12 traction substations (every 60-70 km) and the necessary connections to the existing power supply network.
The feasibility study includes an economic/financial analysis that reflects the project's operational feasibility, cost effectiveness and balance. It also takes into account suitable management and governance frameworks for the implementation of HSR in India, financial assessment and risk analysis.
13 key aspects of the Ineco project
772.36 km of double track for passenger traffic designed in accordance with the UIC's international high-speed rail standards.
Maximum speed: 350 km/h.
Maximum gradient of 25%.
Mapping at 1:25,000, including critical points (urban accesses, railway crossings).
Geological mapping by in-situ visual inspection of the terrain.
Demand studies and projection of passenger traffic growth with a time horizon of 2050.
Pre-design of 5 stations, two workshops and 6 maintenance workbases.
Pre-design of eight tunnels and 526 structures.
ERTMS-Level 2 and GSM-R signalling systems, with ERTMS-Level 1 backup.
Electrification: pre-dimensioning of the 2×25 kV 60 Hz system and siting of substations.
Design of the operational plan and study of possible connections with the conventional network.
Centralised traffic control (CTC) in Nasik.
Drastic reduction of times.
Mumbai-Nasik (from 3h 25m by conventional rail to 47m by HSR).
Mumbai-Aurangabad (from 6h 10m by conventional rail to 1h 29m by HSR).
Mumbai-Nagpur (from 12h 55m by conventional rail to 3h 34m by HSR).
Possibility of extending these benefits to the conventional network using gauge changeover facilities in Nasik and/or Nagpur.
ineco in india
Ineco's presence in India dates back a decade to 2009, when it opened an office in New Delhi. In 2011, it began technical assistance on the construction works of Line 2 of the Mumbai metro. That same year, it led a consortium together with Prointec and Ayesa to carry out a pre-feasibility study on a 135-kilometre corridor between the port city of Haldia and Howrah, located in the Kolkata metropolitan area, in the north-east of the country. The work included demand studies, layout proposals, rolling stock and a preliminary estimate of costs to determine technical and economic viability. In 2015, the Indian government again entrusted a consortium led by Ineco, involving the participation of the engineering company Typsa and the Indian consultancy ICT, to carry out another project, this time a new 1,500-kilometre high-speed corridor between Delhi and Kolkata.
The study was commissioned by the state-owned enterprise High Speed Rail Corporation of India Ltd (HSRC). The line ran through a fairly flat area, along the banks of the Ganges River for much of the corridor, crossing rivers and streams, and passing through cities of great commercial, social and tourist interest such as New Delhi, Agra (home to the iconic Taj Mahal), Mughal, Varanasi and Kolkata. Teams from Ineco, Adif and Indian Railways at Jalgaon (above top), Akola and Amravati (above middle) stations. In the bottom photo, the Spanish team from Ineco, Adif and the Ministry of the Economy with members of HSRC and the Indian Railways Ministry during the presentation of the Mumbai-Nagpur high-speed project on 22 February 2018 in Mumbai.